Home
 Welcome to my website!
I'm John C. Barber, MD, author of Design of a Retainable Keratoprosthesis: History, Design, and Evaluation in Cats and The Joy of Medical Practice: Forty Years of Interesting Patients.
About the Author
DR. BARBER spent a career in academic ophthalmology. During his fellowship in corneal diseases at Massachusetts Eye and Ear Infirmary in Boston, he began working with corneal prostheses. He has conducted research on collagenase inhibition, serum anti-proteases in the cornea and the development of an effective corneal prosthesis. These fields have all come together in this book which describes the development of a keratoprosthesis. He has implanted more than sixty prostheses in cat eyes.
He is a charter member of the Keratoprosthesis Study Group and has attended meetings of the group in the United States and Europe. Dr. Barber has published over seventy articles and abstracts in scientific journals including several concerning the development of keratoprostheses.
During eighteen years at the University of Texas Medical Branch, nine as Chairman of the Department of Ophthalmology, and twelve years as chairman at the St. Francis Medical Center he saw many patients who needed a keratoprosthesis for diseases including Ocular Cicatricial Pemphigoid, Stevens Johnson Syndrome, alkali burns, severe dry eyes, and amoebic keratitis. He ran residency programs at both institutions and trained over ninety ophthalmologists.
Dr. Barber is now retired from medical practice and is living with his wife, Dolores, in Pittsburgh, Pennsylvania and Venice, Florida. He writes books on patient care, gardens in the back yard, and travels extensively. He enjoys classical music and has performed supernumerary roles as part of his interest in opera. He is an avid golfer and enjoys sailing cruising sized sailboats.
About my second book, Design of a Retainable Keratoprosthesis: History, Design, and Evalua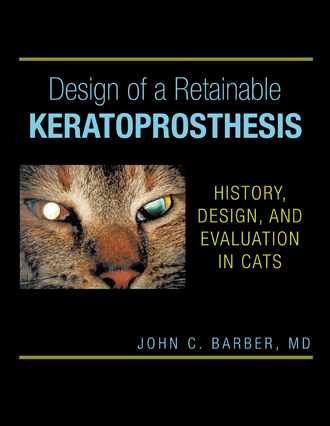 tion in Cats
Dr. Barber gives a comprehensive review of previous keratoprostheses with their good and bad characteristics. From the results of this review, he designs a new prosthesis that incorporates the elements that have been shown to enhance the visual results and retention qualities of keratoprostheses. This prosthesis was tested in cat corneas and the dramatic results are reported.
---
The Joy of Medical Practice: Forty Years of Interesting Patients
by John C. Barber, MD
Description

From the day that Dr. Barber went into the wards as a junior medical student until the day he retired more than forty years later, he was involved in medical care, serving his patients to the utmost of his ability. As an ophthalmologist, he rarely dealt with life-threatening disorders, but he was able to save and restore vision. He also witnessed firsthand the impact of visual loss on people, many of whom could not have their vision saved. His greatest joy was that of patient care. Meeting people and being able to help them overcome a disease was always very important. He loves to tell the stories of his favorite patients and how they influenced him. They include:
A nun who could not wear black; 
The woman with worms in her eyes;
A lady who always sat in the dark;
And many more interesting characters! Discover or rediscover the joys of pursuing a career in medicine, or, if you are a patient, find others who are going through the same problems you might be suffering from in The Joy of Medical Practice.
____________________________________________________________________________________________________
 My latest book; Hey Doc! What's Wrong with My Eye: A General Guide to Eye Problems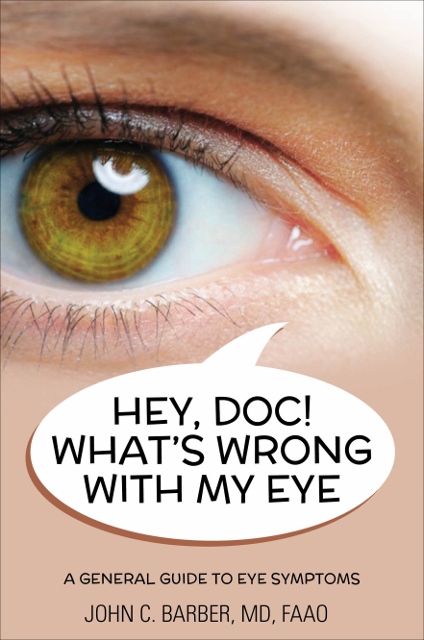 This book is a general guide to common eye symptoms and diseases. It covers cataracts, glaucoma, retinal detachment, macular degeneration and other common problems. The first part of the book involves common symptoms and what they mean and the diseases with which they are associated. The second part explains certain diseases with the ciurrent treatments inclulding surgery for cataracts and other surgical interventions. There are chapters on the effects of various systemic diseases such as diabetes, thyroid disease and AIDS on the eyes and vision. There is a section dealing with the diseases of chidren including hereditary diseases. The book is filled with stories of interesting patients whose cases illustrate the diseases being presented or exceptions to the general presentation. THe book can be read in its entirety or used as a reference for problems as they arise. There is a very complete index to facilitate learning about specific diseases.